McKean Development achieve real-time operations and 100% compliance
McKean Developments is a privately owned joinery and construction company providing complete package construction and maintenance services for both new-build & existing works.
We specialise in the refurbishment of multi-storey tower-blocks and have now refurbished over 100. Our design and installation team focus on the installation of windows, doors, kitchens and bathrooms and we can also offer specialist services such as the installation of enclosed balcony systems, open balustrading and LED feature lighting systems.
Our ethos is to provide a full, professional and dedicated service in order to bring total customer satisfaction within every project we undertake. Customer service, staff safety and compliance with Health & Safety laws are of paramount importance to our business.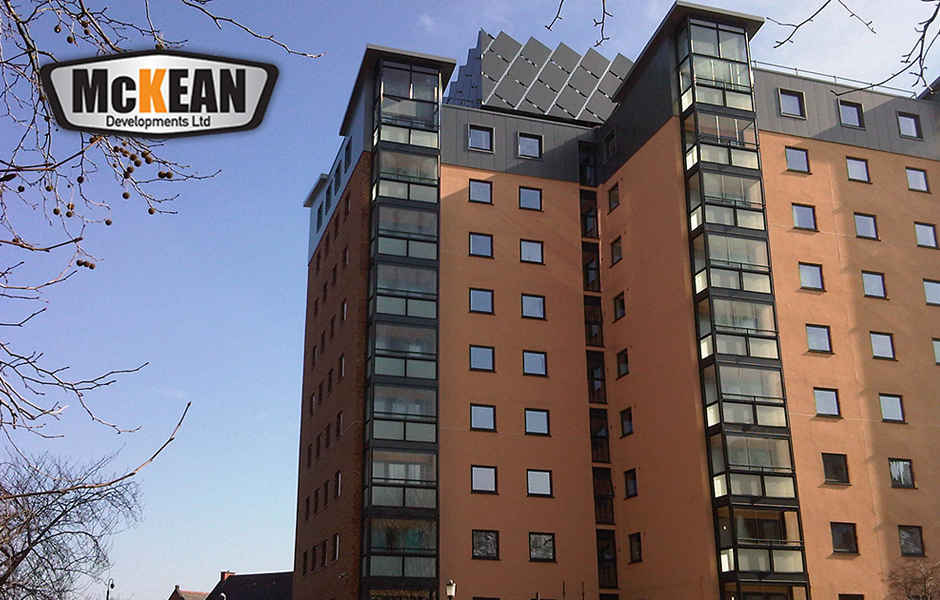 The Problem
Refurbishing entire multi-storey tower blocks is a high volume business and working with residential units of the same dimension should be straight forward. In summary it's not and we struggled to monitor the progress on such complex, high-volume unit developments using pen and paper reporting.
A project can run for many months and the project managers would complete the project paperwork on-site typically returning this to our head office every 5 to 10 days. This meant that the head office team had no indication of the progress of a project without calling the Project Manager for an update.
Additionally, if key project paperwork was not returned we would only know about this at the end of the project and a re-visit would frequently be required to complete the missing paperwork for the unit in question.
When looking at the business from a Health & Safety perspective we also install balconies and balustrades and it is imperative that the installation team follow precise install instructions when installing the item.
Additionally, we used to ask the install teams to carry digital cameras around with them to photograph the install at the various stages to document that the correct install procedure had been followed for each install.
This manually managed quality measure was cumbersome and it was difficult to ensure that the correct install photos were associated with the correct physical balustrade / balcony install.
We recognised the need to work in a more joined-up manner in 2013 and we started to search for a real-time reporting tool to support us with our business.
The Solution
We contacted numerous teams about PDA, digital pen and tablet based reporting solutions and we immediately liked the iForm Pro™ solution from Footprint Solutions.
"iForm Pro™ immediately struck us as a more advanced solution than the others reviewed. The fact that it was iPad™ or Android™ based was attractive and we also liked the fact that all of the forms on the device could incorporate our brand or joint-brand where we undertake partnership-projects.

The real-time nature of form transmission from the install teams to head office was of huge interest to us whilst procuring a solution. All issues in the field need to be reported to the head office team as soon as possible and iForm Pro™ delivers form output in under a minute.

Another key factor in selecting Footprint Solutions as our service partner is that they provided a one-stop-shop for the entire solution supplying us with iPad™ devices, Data Packages / SIM cards and of course the iForm Pro software. This was all bundled up into a single monthly subscription per device" commented David Irons, project manager at McKean Developments.
iForm Pro™ returns electronic forms more or less instantly ensuring that the head office team always have the latest information available relating to the project. Photos can also be attached to forms, they are automatically named and a  thumbnail image is embedded within the form. Full-size images are included within a Zip file which is then returned with each form.
"iForm Pro™ automated the safety photo aspect of our job. When a team install a balcony or balustrade now, the iPad™ is used to take photos at every stage and these are automatically inserted into the form for that particular install. To say that this was convenient when compared to working manually with digital cameras would be an understatement. We now the required photos of every stage of the install embedded within the form. If the engineer hasn't attached all of the mandatory photos the system doesn't allow them to submit the form.

The engineers can also write onto photos using iForm Pro™ and these comments are delivered back to head office in real-time, it's quite amazing really. This has proven really useful when installing kitchens into end-client homes. The fitters can document the entire installation process for each unit including photographs of the final installation" commented Charlie McKean, Managing Director at McKean Developments.

David Irons went on to comment "the tablet end of the solution was impressive but we also took the information warehouse module which allows us to manage forms as they are returned to the head office team. We can report on what an individual install team have been up to, how many jobs we have completed for a given client or generate reports within specific work periods. The warehouse can also generate report output to PDF or Microsoft™ Excel spreadsheets which is great for generating itemised reports to attach to remittance advice notes to our sub-contract staff."
The iForm Pro™ solution is constantly being developed and the Footprint Solutions team are now developing a Microsoft™ Office365 based full mobile working offering in partnership with Microsoft™.
This will allow job sheets to be sent as attachments to calendar invites that will not only place the appointment into the diary of the install team but also send them the pre-populated form as an attachment.
"The constant development being put into the iForm Pro™ solution is what reassures us we have picked one of the markets strongest tablets today and one that is guaranteed to be even more powerful in the future" commented Charlie McKean.
Summary
iForm Pro™ was intuitive and could capture data whilst offline and return data in an instant when the device went back online.
The photo handling of the solution was integrated, convenient to use and required no manual administration to insert images into the forms.
The agile development approach allowed new business forms to be developed in days.
Job sheets could be pre-populated with site and installation information and emailed to the installation teams in the field.
The pre-population of form data raised the accuracy of information captured on-site and returned to head office post-installation.
iForm Pro™ saved the client all print costs, return to base / postage costs and scanning / data entry costs that were associated with the old paper forms. It is estimated that the solution runs with no cost overhead when compared to a paper-based reporting solution.